Price embroidery
Price for machines Embroidery. What determines the price of embroidery. How do the technological features and production time on the cost of machine embroidery.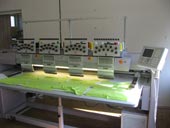 The embroidery price depends on a number of factors: the style of the garment, the type of fabric, the embroidery size and complexity, the quantity of thread colors and stitches count, other technical issues that should be taken in consideration as they can involve a fix fee.
Embroidery companies often specify the embroidery price for 1000 stitches. The real costs for embroidery production per 1000 stitches include the type of materials, the labor time, technological process, specific customer requirements and may vary in accordance with different order conditions.
Our price quote is $0,03 per 1000 stitches.
For the price quote:
example of the design
the color of the background and embroidery thread colors
threads requirements (viscose, polyester, metallic, cotton, woolen other types of the embroidery threads) and special requirements for the made clothes
the type of the material on which embroidery will be made
quantity of the pieces
the size and the cutting piece form on which embroidery will be made (cutting piece embroidery)
thickness of the made clothes
Notice the price quotation is calculating individually in accordance with embroidery conditions and logo design.
Welcome to contact us with any requests and comments.
Please leave feedback on the performance of our company
Your feedback is very important to us!