Our enterprise
Philosophy our Company
Our corporate culture reflects our understanding that successful business relationships are built on long term mutual gain, not short-term expediency
We know that forming strategic partnerships with our clients is a key to success. We work together with your business teams to ensure we deliver high quality embroidery design products to meet the needs of your business. In everything we do, we truly believe that "good enough" is merely a starting point.
We all earn money, so let's do it together! Together we'll earn more!
We believe our business relationships must rest on a foundation of honesty, integrity, fairness and consistency in all our practices. Compliance with all laws and regulations applicable to our business and upholding the highest ethical standards have always been fundamental goals. Our priority is solving problems for you, not giving you more to worry about.
Quality is the main principle of our work!
Who are we?
Our company was founded in 1997 is located in Kyiv and Dnipropetrovsk.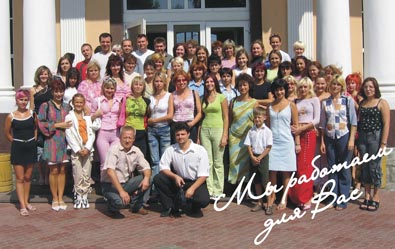 Atas D is one of the biggest and the most professional companies which specialize in the manufacture of embroidery. We produce the high quality embroidery using current technology satisfying the most exacting requirements to quality. With a group of professional managers and staff, we conduct the whole production process such as design, production and delivery directly to the consumer.
Atlas D offers high quality embroidery on different types of apparels and materials such as leather and wool, linen and silk, chiffon and knitwear. We do our best to minimize as much as possible production and non-production costs, thereby, to make our service accessible and to concentrate all efforts on our activity.
Atlas D is an active participant of International Specialized Exhibitions:
Successful participation in exhibitions gave "Atlas D" an opportunity to create necessary conditions for positive results achievements.
Garment Producers Guild of Ukraine
Private Enterprise "Atlas D" became a member of non-profit organization "Guild of Ukrainian Clothes Manufacturers".
Non-profit independent organization.
Guild is join together all companies of textile, clothing, leather, fur and footwear as well as other light industry production and services enterprises.
Guild of Ukrainian Clothes Manufacturers is an active participant in the field of enterprises development and international cooperation.
Please leave feedback on the performance of our company
Your feedback is very important to us!