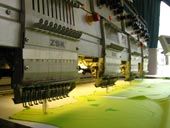 Today, thanks to the development of computer technology, all the routine and monotonous work can be shifted onto the shoulders of mechanisms and computers. And leave the man only creative work.
Computer machine embroidery allows you to quickly transfer the image from the monitor screen or paper drawing to a textile product.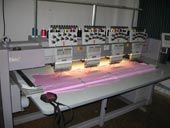 There is also the technology of direct inkjet printing, which makes it possible to obtain an image even faster, but this technology is associated with many technological limitations. And the resistance of such an application leaves much to be desired.
When applied by machine embroidery, you can get a relief image that is resistant to mechanical and chemical influences.
Moreover, it is possible to choose an embroidery thread that corresponds exactly to the conditions in which the clothing or embroidered patch on the finished garment will be used.