Qualitative embroidery - is indicator of high level of corporate culture and fine possibility to be special among competitors!
Computer Embroidery Center "Atlas D" can offer the services of machine embroidery for most areas where applied embroidery. Modern production, established system of quality control and movement orders, allows orders for machine embroidery in the shortest possible time and at an affordable price.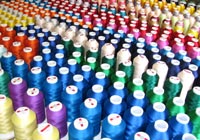 Please leave feedback on the performance of our company
Your feedback is very important to us!