Today, machine embroidery has grown by leaps and bounds. Computers have added another twist into this sewing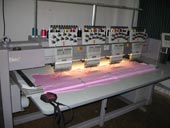 technique making the process easier for mass production of embroidered designs. Specially designed machines can read a computerized design and stitch it for you.
Recent developments in the computer embroidery allow transferring images from the screen of the computer on the textile product faster. Of course you can use the process direct to garment printing, but there are a lot of technological restrictions and requirements to achieve good results.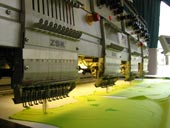 Much contemporary embroidery is stitched with a computerized embroidery machine using patterns "digitized" with embroidery software. In machine embroidery different types of "fills" add texture and design to the finished work.
Embroidery can be classified according to whether the design is stitched on top of or through the foundation fabric, and by the relationship of stitch placement to the fabric. Today, embroidery thread is manufactured in cotton, rayon, and novelty yarns as well as in traditional wool, linen, and silk.
Please leave feedback on the performance of our company
Your feedback is very important to us!