There are many applications of machine embroidery. But, to the most sought-after, include the following:
For overalls we use polyester threads, which are stable to mechanical and chemical influence.
For casual clothes we use threads with the rayon, which has unique shine and silkiness.
We use thick woolen thread with handicraft effects suitable for knitted garments.
We provide the largest range of metallic and fluorescent embroidery thread products for exclusive clothes.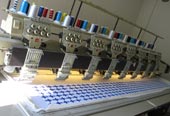 Nowadays the computer embroidery is the most accessible and universal technology of all technologies which is used to add the image on a fabric.
Please leave feedback on the performance of our company
Your feedback is very important to us!