Articles
Вышивка крестиком — история возникновения как вида народного творчества.
Технология ручной вышивки крестиком хоть и трудоемкая, но, по сути довольно проста. Весь орнамент состоит из фрагментов, формируемых из сложенных крестиком нитей (традиционный крестик).
Embroidery cross - one of the forms of ancient art of embroidery. Traditional handmade cross is present in the culture of many nations. The story of embroidery, and in particular, cross-stitch has more than one hundred years.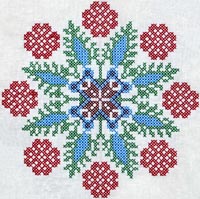 История украинского традиционного вышитого наряда начинается еще в самой глубокой древности. Еще до образования Киевской Руси существовал обычай одевать вышитую рубаху - на праздник расшитую самобытным узором, на каждый день — из грубой ткани, иногда украшенным небольшим узором.